Our tree & shrub care experts have the right knowledge and skills to keep your plants healthy.
Trees and shrubs play a vital role in any landscape, providing natural beauty, variety, and shade. Our team at The Other Side Lawn & Ornamental Pest Control Inc. understands that you care about your landscape, and we want to help you ensure it looks its best.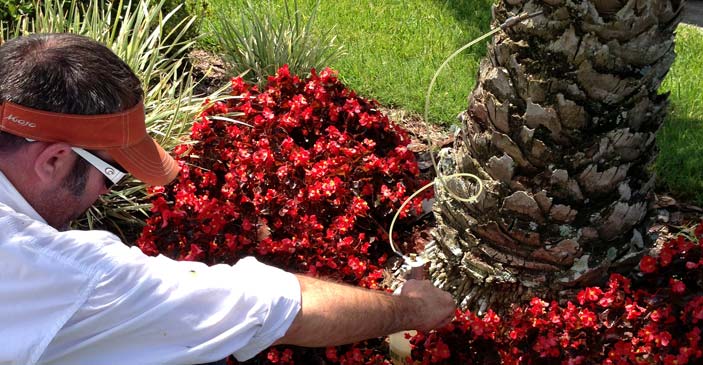 Just like all other living things, trees and shrubs can get sick, and when that happens, they will start to lose their lushness. In addition, a sick tree or shrub is more likely to fall the next time a storm rolls through, which makes them a risk to your building. Fortunately, our team has extensive experience in tree & shrub care, and we can help you keep these plants healthy and strong.
There are many things that can affect the health and structural integrity of your trees and shrubs, such as plant diseases, fungi, and damaging insects. For our tree care services, our team uses a method known as trunk injection, which involves injecting medicine that will counter damaging fungi and insects directly into the tree itself—essentially, we can give your trees a vaccine against a variety health conditions.
In addition, we can provide shrub care services that will protect your shrubs from harm and give them the nutrients they need to thrive. If you have questions about our tree & shrub care services, feel free to reach out to us to get the answers you are looking for.
Our team is proud to serve the community here in Davenport, Florida, and we want to help you keep your landscape looking its best. If you are interested in learning more about our tree & shrub care services, just give us a call.
---
At The Other Side Lawn & Ornamental Pest Control Inc., we offer tree & shrub care services in Lakeland, Auburndale, Bartow, Plant City, Winter Haven, Davenport, Lake Wales, Brandon, Polk City, Highland City, Crystal Lake, Eaton Park, and Winston, Florida.