We offer a 100% guarantee on our termite removal service.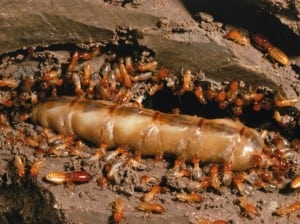 Termites are a somewhat common pest in this area. Because we have warm, moist weather in much of our state, the conditions are optimal for termite infestations. If you have termites at your property, you will need to take action immediately and with professionals who are trained to take care of termites. If the termites have been present for a while, they can cause severe damage to the structure. Termites tend to live in places where they have access to a food source, so homes and foundations that are made of wood are the most commonly infested. Rather than leaving these pesky pests to have a feast on your foundation, call us here at The Other Side Lawn & Ornamental Pest Control Inc. for our termite removal services.
You might be wondering how these termites got into your home in the first place. Most termites live beneath the ground and will come up when they find a wood source and start eating. This can be anything from finding a wooden door frame, a deck, foundation or even a wood pile that is resting on the ground close to your home. If you keep a wood pile on your property, be sure to store it far away from the home, since this can be a home for termites, as well. By keeping your home as unappetizing to termites as possible, you have a better chance of keeping them away. Our experts can always give you other helpful tips of how you can make your home less desirable to termites.
If you already have termites, you will need a professional for your termite removal. There are several options for termite removal in Lakeland, Florida. When our technicians from The Other Side Lawn & Ornamental Pest Control Inc. come to your home or office to analyze the need for termite removal, we will talk with you about the options. We are certified with the department of agriculture to do WDO (wood destroying organism) inspections. We typically use chemical treatments that will eliminate the colonies. Termites usually move around in mud tunnels, so we will also remove these to make sure any pests within these areas will also be eliminated. Our technicians also apply a barrier of chemical treatment to prevent any future infestations. You can help minimize the risks of termites by covering or treating any exposed wood.
Something that we always recommend here at The Other Side Lawn & Ornamental Pest Control Inc. is that you choose an expert in pest control like ours when it comes to termite removal in Lakeland. Some people attempt termite removal on their own, but they may not be able to get rid of the entire colony. This means that instead of ridding your property of termites, you will have continued infestations. We offer a 100% guarantee on the service, so it is always a better option to rely on our professionals at The Other Side Lawn & Ornamental Pest Control Inc. for pest control services. To get rid of your termites, please call us today!
---
At The Other Side Lawn & Ornamental Pest Control Inc., we offer termite removal services in Lakeland, Auburndale, Bartow, Plant City, Winter Haven, Davenport, Lake Wales, Brandon, Polk City, Highland City, Crystal Lake, Eaton Park, and Winston, Florida.