Keep your landscaping healthy with our tree & shrub care.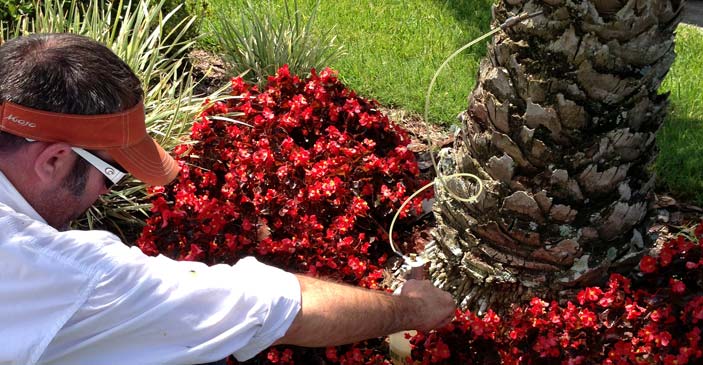 It can be surprising how quickly a tree or shrub can be decimated by insect and disease problems. When you consider how long it can take for either to mature to be a valuable part of the landscaping at your Lake Wales, Florida property, it makes sense to provide them with ongoing tree & shrub care to prevent and resolve any problems. At The Other Side Lawn and Ornamental Pest Control Inc., we offer innovative solutions to protect your trees and shrubs.
We are one of few companies in the area that offers the Arborjet system for tree care. This system allows us to use a minimal amount of pesticide, making it the ideal solution for limiting environmental concerns. With the innovative Arborjet tool, we can inject the insect and disease product into the vascular system of the tree. The opening is then sealed so that the tree is not put into any danger.
Another part of our tree & shrub care involves preventing problems with the shrubs around your property. We offer two programs for your shrubs: monthly and 8-step. Both programs include fertilization as needed, which is generally twice a year. This program protects your shrubs from fungus and insects.
If you would like to know more about our tree & shrub care or any of our services, including pest control, irrigation services, lawn spraying services, and WDO inspections, don't hesitate to reach out to us. We look forward to putting your mind at ease that your home and property is being protected from the wide variety of pests and other problems that can prove costly to deal with if left unresolved.
---
At The Other Side Lawn & Ornamental Pest Control Inc., we offer tree & shrub care services in Lakeland, Auburndale, Bartow, Plant City, Winter Haven, Davenport, Lake Wales, Brandon, Polk City, Highland City, Crystal Lake, Eaton Park, and Winston, Florida.