We offer shrub treatments to keep the shrubs on your Lakeland, FL property looking healthy year-round.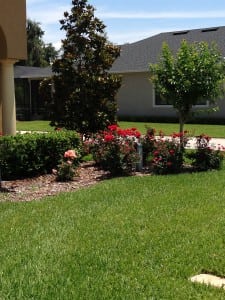 Ornamental shrubbery can bring an added artistic dimension to your landscaping, but only if you take care of the growth properly. Diseased and dying shrubs can become an eyesore and a gateway for insects and other pests to invade your lawn. Protect your investments by providing the suggested shrub treatments yearly.
Fertilization: The heaviest fertilization should occur in the spring and the fall. This is when the deep-root feeding should take place for shrubbery to encourage the healthiest growth. Both of our shrub treatment programs include this fertilization twice a year. Our fertilizer rejuvenates the soil and is packed with nutrients tailored to the needs of your shrubs.
Insect Control: Insects can cause a number of problems with the vegetation in your yard. Aphids, weevils, and moths can harm shrubbery. Some pests may not harm the plant itself, but may be a danger to you (e.g. ticks). Our treatment programs will seasonally spray for insect control, as well as address problems as they arise.
Disease Control: Preventive shrub treatments are the best idea when addressing disease control. By enrolling in a regular treatment program, you will ensure that your shrubs receive seasonal treatments to prevent infection and disease. We also have treatments to address diseases that have already taken hold of your plants; whatever your need, we can help restore your foliage to its healthier state.
Choose from either our Monthly Program or our 8 Step Program for shrub treatments. Call us today to decide which program is the best fit for your landscaping.
---
At The Other Side Lawn & Ornamental Pest Control Inc., we offer shrub treatments in Lakeland, Auburndale, Bartow, Plant City, Winter Haven, Davenport, Lake Wales, Brandon, Polk City, Highland City, Crystal Lake, Eaton Park, and Winston, Florida.