Our mosquito control services can make being outside in the beautiful Bartow, FL weather fun again!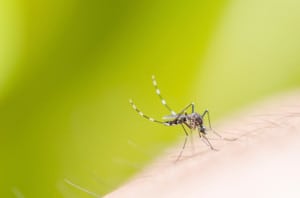 Mosquitos are pesky insects that bite and draw blood, leaving an itchy and irritated spot behind for several days. They can also carry West Nile Virus, an illness that can cause fevers, headaches, body aches, swollen lymph nodes, and a skin rash. Here in Bartow, Florida, we have warm temperatures and a humid climate throughout most of the year, which is an atmosphere where mosquitos thrive. Therefore, it is tough to escape them when you spend any time outside, even if you are just walking to and from your car or mailbox.
Bug repellant might help keep them away from you, but it is tough to remember to put it on every time you want to step foot outside. With the pleasant weather that we have during the evenings and later in the year here in Bartow, many people enjoy being outdoors and taking advantage of the climate. But when a mosquito feasts on your blood within a few minutes of going outside, the fun of being outside tends to dissipate. At The Other Side Lawn & Ornamental Pest Control Inc., we offer mosquito control services to ease these worries.
We will use products that will eliminate mosquitos from your yard, making it easier to enjoy time together outside. Part of the process is eliminating larvae, often found near sources of water, and coming back as the seasons change to accommodate increased numbers of mosquitos. Our mosquito control services are effective at removing pesky insects right away. Call us today to schedule mosquito control services on your property.
---
At The Other Side Lawn & Ornamental Pest Control Inc., we offer mosquito control services in Lakeland, Auburndale, Bartow, Plant City, Winter Haven, Davenport, Lake Wales, Brandon, Polk City, Highland City, Crystal Lake, Eaton Park, and Winston, Florida.