Take advantage of our mosquito control services in Auburndale and say goodbye to pesky mosquitoes in your yard.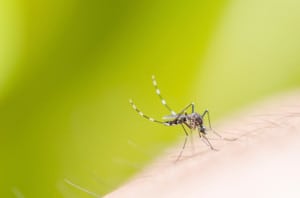 Living in Auburndale, Florida, you're no stranger to mosquitos taking over your barbecues, swarming around you when you do yardwork, and annoying you as you try to sit out on your patio. If you're more than ready to kick the mosquitos out of your yard and keep them from coming back, it's time to turn to us at The Other Side Lawn & Ornamental Pest Control Inc.
As part of our mosquito control services, our goal will be simple: drastically reduce the mosquito population on your property. However, we want you to remember that there isn't one single way to do this. In fact, in many cases, it takes a combination of different strategies to make a real difference. For example, when we come and inspect your property, we might recommend applying pesticides to your yard's perimeter and treating vegetation to repel mosquitoes. Or, we might suggest a long-term seasonal treatment plan that gets rid of mosquitos whenever they try to land in your yard.
Whatever the plan, we'll make sure you're fully aware of your options and that we do what's best for you and your yard as we provide you with mosquito control services. This is simply how we do things, and one of the main reasons why we're known for the way we treat our valued customers.
This season, stop making room for mosquitos! Instead, give us a call at The Other Side Lawn & Ornamental Pest Control Inc. to find out more about our mosquito control services.
FAQs About Mosquito Control
At The Other Side Lawn & Ornamental Pest Control Inc. we know that mosquitoes are one of the most annoying pests to have around your property. We like teaching our customers about the mosquito control services we offer to help rid them of these pesky insects, so here are a few frequently asked questions along with our answers to them.
Do I really need multiple mosquito control treatments, or is one enough?
Mosquito control services are designed to be applied multiple times for maximum effectiveness. Although you will see noticeable results after the first application, if you stop treatments, they will likely return in a few weeks unless you stick with a treatment plan.
How can I help prevent mosquitos in my yard?
Two of the best ways to avoid a mosquito infestation are to eliminate standing water, which is where they breed, and to make sure you keep your grass cut since mosquitoes like cool shady spots.
Will a standard pest control treatment get rid of mosquitoes?
While a basic pest control application might temporarily help reduce their numbers, the most effective way to keep them away is with targeted treatments. This may be a perimeter treatment designed to repel them, or a more long-term plan that gets rid of them any time they land on your lawn.
How long do treatments stay effective?
This will depend on the particular treatment, but in general, you can expect the results to last between 3-5 weeks. For this reason, it is best to get on a regular treatment plan if you want a consistently mosquito-free yard.
---
At The Other Side Lawn & Ornamental Pest Control Inc., we offer mosquito control services in Lakeland, Auburndale, Bartow, Plant City, Winter Haven, Davenport, Lake Wales, Brandon, Polk City, Highland City, Crystal Lake, Eaton Park, and Winston, Florida.