We offer effective termite treatments for the removal and prevention of termite infestations.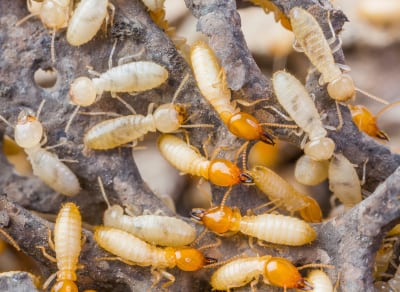 There are two types of termite treatments that every homeowner in the Lake Wales, Florida area should be well-informed about – termite removal and termite prevention. At The Other Side Lawn & Ornamental Pest Control Inc., we offer comprehensive termite inspections to determine whether you have a termite problem and then we discuss removal if you do and termite control to help you avoid a future problem.
It is important to understand that termites can cause extensive damage in a relatively short period of time. This is due primarily to how quickly a colony can expand – growing from under 100,000 to a couple million before you know it. Once they get that large, they can easily devour a standard stud in less than six months. That might not seem like a lot, but in the course of about 3 to 8 years, your home could be weakened to a dangerous point depending on where the colony has gone to work.
Termite treatments can be anything from a simple removal to a full tenting depending on the size of the colony and its location. If tenting is necessary, we will walk you through the process so you can properly prepare and make alternate lodging accommodations until it is safe to return to your home. Whether you currently have termites or not, we recommend learning about our effective termite treatments to prevent them so you can have peace of mind that your home is safe. Contact us today to learn more or to schedule an appointment.
---
At The Other Side Lawn & Ornamental Pest Control Inc., we offer termite treatments in Lakeland, Auburndale, Bartow, Plant City, Winter Haven, Davenport, Lake Wales, Brandon, Polk City, Highland City, Crystal Lake, Eaton Park, and Winston, Florida.
Similar Services We Offer: