Our termite treatments can take care of those creepy crawlies eating away at your property!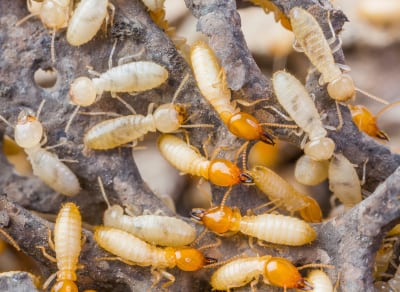 There aren't many things that can strike fear and dread into the heart of a Florida homeowner quite like learning they have termites. Not only are termites creepy, but they also chew away at your home's wooden foundations and structural components with a ceaseless appetite! Whether you have seen evidence of termites around your Davenport, Florida property or want to make sure a property is termite-free before purchasing, our team here at The Other Side Lawn & Ornamental Pest Control Inc. can help you with our wide variety of termite treatments.
With the help of our termite treatments, you can feel confident that your termite problems are taken care of– for good! We have over 20 years of experience taking care of pests and rodents, including termite treatments, so you are in good hands when it comes to ridding your property of termites. We will find them at their source and determine what will need to be done in order to rid your property of termites, whether that be a simple spraying of the property or a more comprehensive solution, like tenting.
When you are looking for termite treatments, termite inspections, termite removal and other services for prevention or removal of termites, we want to be the ones to help you. With our 100% satisfaction guarantee, you can feel at ease knowing that your termite problems can come to an end with our assistance.
---
At The Other Side Lawn & Ornamental Pest Control Inc., we offer termite treatments in Lakeland, Auburndale, Bartow, Plant City, Winter Haven, Davenport, Lake Wales, Brandon, Polk City, Highland City, Crystal Lake, Eaton Park, and Winston, Florida.
Similar Services We Offer: