We are confident our termite control system will minimize the risk of termite damage to your home or commercial property.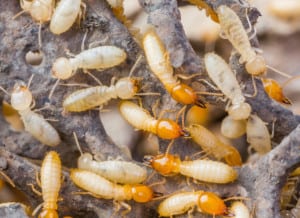 Termite control is something that every homeowner and commercial property owner should take seriously if they want to protect against termite damage. Our climate here in the Davenport, Florida area is very conducive to all insects, especially termites! At The Other Side Lawn & Ornamental Pest Control Inc., we can help you eliminate existing termites and put a termite control plan in place to prevent against a future termite infestation.
We take the time to explain our termite control process and inform you about steps you can take to further safeguard against the destruction that termites can do to your property. The goal is to avoid structural damage that could be costly to remedy. We have developed effective termite control solutions during our nearly 20 years of business, so we feel confident we can get your termite problem under control along with any other pest issues you might be having.
Our termite control system uses bait stations that lure termites. This makes them less likely to seek out your structures instead. The bait contains an effective poison that is carried back to the colony resulting in the death of the queen and the eradication of the colony. This system should be used for any type of structure, even a concrete block home or building, as there are always wood components for termites to feast upon.
If you have questions about what you can do to help with termite control and what we do to minimize the risk of a termite infestation, don't hesitate to reach out to us.
---
At The Other Side Lawn & Ornamental Pest Control Inc., we offer termite control services in Lakeland, Auburndale, Bartow, Plant City, Winter Haven, Davenport, Lake Wales, Brandon, Polk City, Highland City, Crystal Lake, Eaton Park, and Winston, Florida.