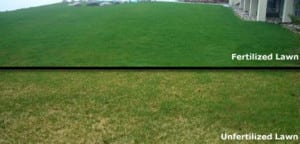 Plants don't always receive all the nutrients they need from soil, water, and the sun. Some soils are mineral deficient and not foliage supporters, and in cases like this, it is important to use fertilization to help them thrive. Grass and turf should be treated just like any other plant in your yard and garden, which is why lawn fertilization is needed to help it flourish.
The front lawn of a home can be compared to the red carpet. It is the home's runway; it gives your home character and charm. When a lawn is yellowing or full of weeds, it can reflect badly on you and the pride you have in your yard.
With lawn fertilization, you do not have to worry about strangers judging your yard or your work ethic. You can have a beautiful, green expanse of lush grass with the proper treatments. When our professionals fertilize your lawn, weed control is included. Dandelions and crabgrass lie in wait to give you a headache and be an eyesore. It is possible to have a lush-green and weed-free lawn!
At The Other Side Lawn and Ornamental Pest Control, we know all of the lawn care issues that your Florida yard might have, and we know how to treat them with the highest-quality products and professional staff. We treat all of your lawn problems and will never bill you a la carte.
For more information on lawn fertilization, please contact us. We service Lakeland, Florida and the surrounding communities in Polk County.