We can get rid of fire ants for you with fire ant control services.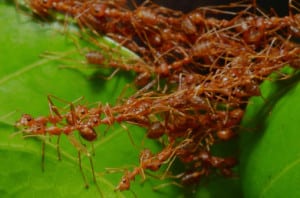 When the weather is nice and warm, it gives us the opportunity to get outside and enjoy nature. We spend a lot of time in our yards. Whether we are doing yard work, sitting in a hammock, or having a cookout, we usually spend more time outside when the weather is nice. Unfortunately, with nice weather comes the bugs. Most are harmless, but annoying. However, when you have a fire ant problem, it can be a lot more than annoying. It can cause a lot of problems for you and your family. Their bites are really painful, and when there is one fire ant, there are usually thousands. This can make you reconsider going outside to enjoy the nice weather. To make sure that fire ants don't ruin your plans, call us today at The Other Side Lawn & Ornamental Pest Control Inc. for fire ant control services.
We provide quality fire ant control services to all of the residents in Lake Wales, Florida. We know the area, and we know what really works to get rid of fire ants to make sure that they do not cause a problem for you any longer. Once you spot those pests, call us and we will schedule immediate service for your property. We can control the fire ants and eliminate them before they become a huge problem. We do great work and get great results. We are reliable, punctual, friendly, and hard working. You can count on us to take great care of you.
Call us today at The Other Side Lawn & Ornamental Pest Control Inc., and we can help get rid of your fire any problem and make them go away quickly. All of our treatments are very effective and affordable. We can help you enjoy your yard without being threatened by fire ants.
---
At The Other Side Lawn & Ornamental Pest Control Inc., we offer fire ant control services in Lakeland, Auburndale, Bartow, Plant City, Winter Haven, Davenport, Lake Wales, Brandon, Polk City, Highland City, Crystal Lake, Eaton Park, and Winston, Florida.