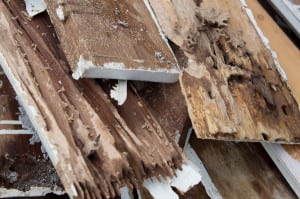 Termites are one of the most annoying pests that can attack your home. One of the qualities that makes them an especially annoying pest is the fact that they can arrive quickly and quietly and then proceed to do a great amount of damage to your home in a very short time period. In fact, once termites have moved themselves into your abode, they can have it demolished within two years if given the right conditions.
If you like your home and would appreciate the opportunity to continue living there, we advise you to be aware of the potential signs of a termite infestation. If you suspect that you could have termites, you will need to have us come in to perform our termite control services as soon as possible in order to protect your home from further damage or destruction.
Now that you know that you need to be watching out for the signs of termites, you may be wondering what exactly those signs are. Some of the most common signs include things such as "swarmers" (aka winged termites), termite tubes, termite cement, or damaged wood. If you notice any of these signs, you probably need termite control services.
Once you've determined that you could have a termite problem, the first step towards getting rid of the unwanted critters is to give us a call at The Other Side Lawn & Ornamental Pest Control Inc. When you contact us, we will come out and perform a thorough inspection of your home. Once we've determined your termite control needs, we will inform you of the best course of action. Our goal is to get rid of the termites and prevent them from coming back anytime soon. Contact us today for more information!