Irrigation systems play important roles in providing necessities to your Bartow, FL lawn and other landscaping.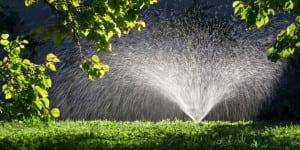 Most people are well aware that plants require several things to thrive, including water, sunshine, oxygen, and nutrient-rich soil; however, one thing that may not be as well-known is that too much of any of these things can quickly become a problem, especially if it's too much water. When your grass is overwatered, the roots become overloaded and cannot drain properly. This tends to lead to root rot, which causes the grass to die. As a result, you may notice brown, dry spots in your lawn, especially near the sprinkler heads. Irrigation systems play important roles in providing necessities to your lawn and other landscaping.
Our team of irrigation systems experts is here to assist you with analysis and repair of your existing system. We also offer installation of irrigation systems in the Bartow, Florida area, as well as many of the surrounding cities. When we take on an irrigation analysis, we can quickly determine the cause of dead or dying areas of your lawn and give you the solution to make your landscaping look beautiful. Our goal is to help every customer achieve a green and healthy lawn, which is why we provide extensive service for irrigation systems.
If you have any questions about your current system or replacing parts that aren't working, contact us today. For customers who schedule their first lawn treatments, we offer a free sprinkler analysis to help you determine what might not be working well within your irrigation system. In addition to irrigation service, we offer a wide variety of other lawn care and pest control services.
---
At The Other Side Lawn & Ornamental Pest Control Inc., we offer services for irrigation systems in Lakeland, Auburndale, Bartow, Plant City, Winter Haven, Davenport, Lake Wales, Brandon, Polk City, Highland City, Crystal Lake, Eaton Park, and Winston, Florida.