Keep your lawn watered and safe with our irrigation systems and analysis!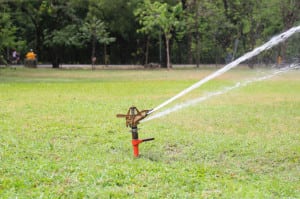 Everyone knows that their lawn needs water to survive and thrive, but how much water and getting the water distributed exactly right can be very tricky. Here at The Other Side Lawn & Ornamental Pest Control Inc., we want to help ensure that every part of your lawn is getting the necessary water it needs in order to survive with our irrigation system services. By checking your irrigation system and making necessary adjustments, we can help your lawn grow properly.
Irrigation systems are made up of a complex series of piping and different types of sprinkler heads that will help distribute water without waste. Our experts in irrigation systems can take a look and make sure your system is working properly by looking for areas that are flooding, too dry, or dying. By checking your irrigation system through an irrigation system analysis, we can ensure that your yard is getting adequate moisture.
In addition to ensuring that your irrigation systems are running properly, we can also help you with your lawn care needs that aren't water-related. If you need proper fertilization, aeration or other services that can help improve your lawn quality, then we are able to assist you with those needs for your Lake Wales, Florida area property.
If you have questions about the irrigation systems on your property, then give our team of experts a call today. We would love to assist you with the proper care and watering of your lawn. To learn more, please contact us!
---
At The Other Side Lawn & Ornamental Pest Control Inc., we offer services for irrigation systems in Lakeland, Auburndale, Bartow, Plant City, Winter Haven, Davenport, Lake Wales, Brandon, Polk City, Highland City, Crystal Lake, Eaton Park, and Winston, Florida.