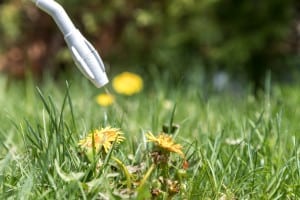 When you think of lawn spraying, you may think of killing mosquitoes or trying to get rid of weeds. But does it actually do the trick? Will your grass look better? Will the bugs be gone? Won't your results only be temporary?
When it comes to lawn spraying, you may be surprised to find that it can actually be used for a variety of concerns related to your lawn, including weed control, crabgrass control, fungus control and much more. If you would love to take back your lawn without worrying about every weed, mushroom, and mosquito, it could be that lawn spraying provides the perfect solution. In fact, lawn spraying can also be a great way to fertilize your lawn, making your grass greener and healthier all year long.
At The Other Side Lawn & Ornamental Pest Control Inc., we believe lawn spraying can be a great option when you really have a problem with your grass or with pests and you simply haven't found a good solution. We'll be happy to discuss what time of year provides the best results, determine which issues need to be addressed, and create a plan of action.
When you work with us, you can expect great service and fair pricing with our preventative treatments. Our number one goal is to protect your landscape and give you an outdoor living area that truly brings you joy. Contact us today to discuss our lawn spraying options and how we can help you achieve great results.