Lawn Spraying Services, Winter Haven, FL
We offer lawn spraying services in Winter Haven, FL that take the guesswork out of what your lawn needs.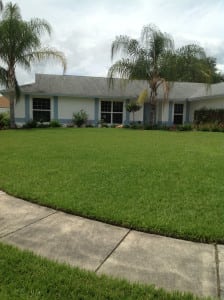 Most of the time, people are oblivious to what is going on with their yard and would be shocked to learn that they are sharing it with millions of insects and pests. While some of these provide beneficial services, the majority do not. Pests can destroy your sod, trees and shrubs pretty quickly if left unchecked. Since we do not have cold winter temperatures here in Winter Haven, FL to kill off the insects, their numbers can multiply steadily. You may not notice a problem until one day your landscaping takes a real turn for the worst.
At The Other Side Lawn & Ornamental Pest Control Inc., we offer lawn spraying services that take the guesswork out of what your lawn needs. We treat for pests and provide just the right amount of fertilization to keep your landscaping healthy and beautiful. We can take care of things like fungi, crabgrass and brown spots, which are all things than can detract from the beauty of your landscaping.
It can be challenging to keep up with a yard with so many other things on your plate as a homeowner, so why not leave this part to us? We have the expertise to know what products to use, when to use them, and how much to use that will maintain balance in your yard. It can be frustrating to keep up with the specific components of weed, disease and fungus control, as well as outdoor pest control. Most homeowners find this task simply guesswork – the just toss on something and hope it works. With our affordable lawn spraying services, you no longer have to guess, and you can find fun things to do with your family on the weekends instead. Call us today for a quote on our lawn spraying services in Winter Haven.
Lawn Spraying Services: FAQs for You!
If you are like most people, then you love the look of a clean, lush and green lawn! However, as many homeowners quickly find out, taking care of a lawn is not as easy as it looks. There are many things that can ruin a lawn, and pests are a major problem. Here at The Other Side Lawn & Ornamental Pest Control Inc., we want to offer you the best in our lawn spraying services to help alleviate, treat and prevent any pest issues you might here. We know that many people have questions about our lawn spraying services, so we thought we would take this opportunity to address some of our most frequently asked questions (FAQs):
What pests should I watch out for?
Ants are very common and not always problematic. However, you should let us know when you see large colonies, fire ants or different pests.
What pests can lawn spraying services treat?
While ants are the most common pests in the area, lawn spraying services can address a variety of different pests, including ants, fleas, ticks, sod webworms, rodents, spiders, mosquitos and even grubs and cinch bugs.
Will lawn spraying services address other grass/lawn problems?
Yes! Lawn spraying services can also take care of brown spots, crabgrass, fungal problems and much more.
Can you do something about the mosquitos?
Yes! Mosquitos are a common issue, particularly if you have any standing water on your property. Our lawn spraying services can help rid your lawn of their eggs.
How long will it take?
That depends on the size of your property. For most properties, lawn spraying services will take less than an hour.
These are just some of our frequently asked questions. If you have other questions or would like to know more about one of these listed, please give us a call today.
---
At The Other Side Lawn & Ornamental Pest Control Inc., we offer lawn spraying services in Lakeland, Auburndale, Bartow, Plant City, Winter Haven, Davenport, Lake Wales, Brandon, Polk City, Highland City, Crystal Lake, Eaton Park, and Winston, Florida.
Similar Services We Offer: