Our lawn fertilization services will help create the magnificent lawn you've always wanted!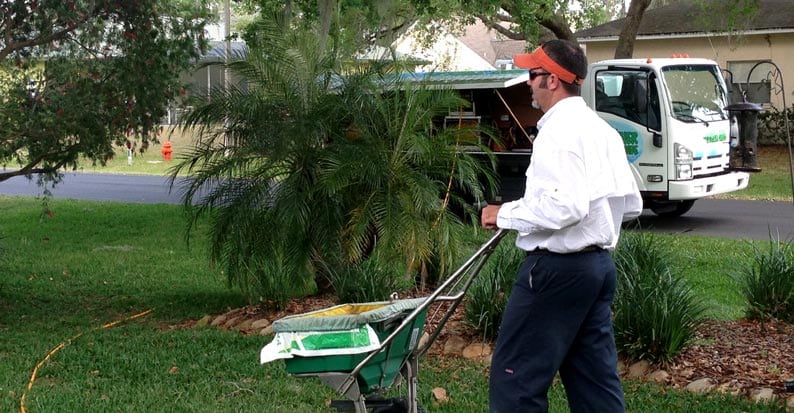 Almost everyone knows that lawn fertilization is a key component to achieving and maintaining a lush, green yard around their home or business in Plant City, Florida. This key maintenance item can sometimes be overlooked though. Perhaps you just forget or perhaps your inexperience leads to further problems. Some people end up spreading too little fertilizer and it just isn't enough to support grass growth. Others attempt lawn fertilization but spread too much fertilizer and end up burning their grass.
When it comes to lawn fertilization, it is a good idea to consult professionals like us here at The Other Side Lawn & Ornamental Pest Control Inc. We can analyze your current lawn and give you precise recommendations about how to improve it. It may be that you have spread enough fertilizer, but the lawn fertilization is ineffective because your soil is too compacted. In this case, we would recommend other services, like core aeration, before attempting further lawn fertilization.
For a truly worry-free lawn, you can turn your lawn care over to us. We offer many different maintenance and lawn treatment packages that can suit just about any budget while giving you superior results. If you have patchy, dead or dry grass, don't wait and hope it gets better. We offer a free sprinkler analysis as well with your first lawn treatment like lawn fertilization, so if your irrigation system isn't functioning correctly, we can help you diagnose the problem quickly and get it fixed. Call today to learn more about lawn fertilization or one of our other services.
---
At The Other Side Lawn & Ornamental Pest Control Inc., we offer lawn fertilization services in Lakeland, Auburndale, Bartow, Plant City, Winter Haven, Davenport, Lake Wales, Brandon, Polk City, Highland City, Crystal Lake, Eaton Park, and Winston, Florida.