The key to a healthy lawn is professional lawn fertilization.
It might seem like always having a lush, beautiful lawn at your Davenport, Florida home is impossible. Many marvel at how nice it can be during the rainy season, yet how dry, brittle, and unhealthy it can be other times of the year. At The Other Side Lawn & Ornamental Pest Control Inc., we want you to know that you can enjoy a lush lawn all year long with our irrigation and lawn fertilization services.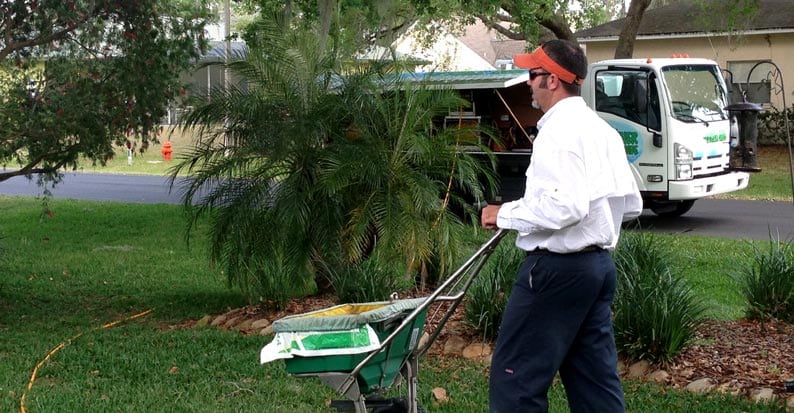 The healthier your lawn is, the better it can stand its own when pests drop by to visit or when the worst heat of the summer comes around. Proper watering and lawn fertilization encourage the grass to have nice, deep roots and engage in active new growth that will keep your lawn looking its best. Lawn aeration is another technique we use so that your lawn doesn't suffer from soil compaction and so that water and nutrients from our lawn fertilization efforts can get where the grass needs them most.
There are various reasons why it is best to leave lawn fertilization to a professional. First of all, we have the experience to use the right quantity so that your lawn gets enough nutrients, but not too much that could result in burns on the lawn. We also know how to handle the materials in a safe manner so you don't have to worry about mishandling them. In addition, you won't have to guess which materials to buy or have to store the unused portion. We use quality materials that are selected to match your lawn's needs. Let us take the guesswork out of lawn fertilization for you so that you can enjoy optimal results with no time or effort expelled on your part.
Call today to learn more about our lawn fertilization service and our other services designed to make your lawn healthy and beautiful.
---
At The Other Side Lawn & Ornamental Pest Control Inc., we offer lawn fertilization services in Lakeland, Auburndale, Bartow, Plant City, Winter Haven, Davenport, Lake Wales, Brandon, Polk City, Highland City, Crystal Lake, Eaton Park, and Winston, Florida.